Democrats at a Town Hall: Earning a Merit Award 'Doesn't Matter That Much'
The investigation into Northern Virginia schools withholding notification that some students earned Merit Recognition, based on scoring in the top 3% of the country, started with just one school, the prestigious Thomas Jefferson School for Science and Technology. Since this issue was first uncovered a few weeks ago, there has been a steady drip of new schools where recognition was delayed: first other high schools in Fairfax, then Loudoun, then Prince William, and now even Stafford County has been impacted.
The response has been swift. Parents are outraged that notification of these awards were withheld, and for good reason: scoring in the top 3% of all national students can make a college application stand out, and can be the difference between receiving a scholarship or not, or how much money they receive. For example, some universities like Liberty University offer a full scholarship to recipients.
For parents struggling with the high and rising costs of tuition, and students concerned about being saddled with crippling debt at the start of their career, receiving a full or even partial scholarship can be a major, life-changing award. Yet systematically across Northern Virginia, some students didn't receive notice of their Letter of Commendation until after deadlines for college applications passed.
Attorney General Jason Miyares has announced an investigation into the issue, supported by Governor Glenn Youngkin as well. This should be the minimum response: it is clear the excuse of an "administrative oversight" that has hurt hundreds of students across a dozen schools in multiple counties is not sufficient explanation.
Yet, Democrats are quick to dismiss parent's concerns entirely.
At a Town Hall meeting with constituents, State Senator Scott Surovell (D) and Del. Mark Sickles (D) were asked about the issue, and their glib responses dismissing parents' concerns echoes Terry McAuliffe's infamous remarks that parents shouldn't have a say in their kids' education.
Surovell said: "Bottom line, I don't see it as something we ought to investigate." He added that he suspects many high schools across the Commonwealth don't provide recognition to students ahead of college application deadlines, which isn't the case against against investigating as he thinks it is.
Surovell is claiming this isn't out of the ordinary, and therefore parents shouldn't be upset. However, this is at odds with the Superintendents in the affected counties, who fully admit that there was a delay, are apologizing for it, and claim to be taking steps to reach out to colleges on students' behalf and make sure this never happens again.
Mark Sickles takes things even further, calling parents' concerns "ridiculous", before issuing a stream of disinformation meant to tell parents to shut up and let the government handle it.
First, Sickles claims that schools aren't obligated to notify students because its "on behalf of a private company". Putting aside his clear disdain for non-governmental organizations trying to improve and reward excellence in education, Sickles is flatly wrong on this point, as ABC News points out:
"Schools are tasked in the fall with notifying students whether they were recognized as a commended student."
Which makes sense why all the impacted Superintendents are apologizing and instructing their staff to try and make amends.
Second, and even more grossly, Sickles dismisses the Award as a mere "third-place placement" that "doesn't matter that much." In fact, Sickles claims that as the reason why administrators "forgot" to notify students of their award.
To put this into perspective, here's what Sickles is referring to, from the site "Prep Gurus", which provides resources to students and parents: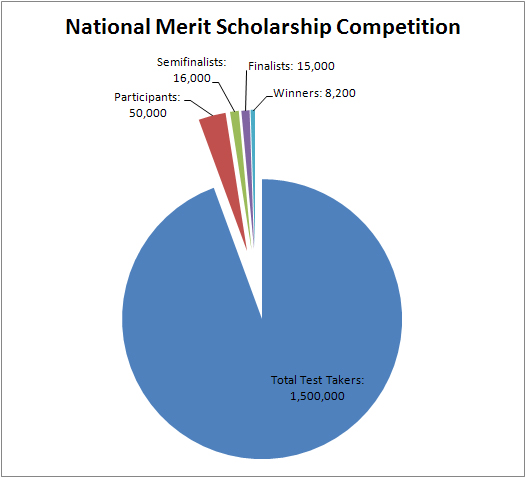 The red slice of 50,000 students – the top 3% in the country, resulting in a Letter of Commendation – is what Sickles is saying isn't really an achievement worth anything.
Sickles claims it doesn't matter because he doesn't believe it will be the deciding difference between whether a student gets into college or not. He has no idea whether that's true. After all, students spend months building as strong a case as possible for their acceptance. Dismissing any one factor as irrelevant is absurd, especially when its defending the mistake of the school system that students and parents are asked to trust.
Sickles' claim also entirely discounts the impact on scholarships, which isn't always a yes/no decision; the amount of an award is also being determined. Dismissing the achievement of Virginia students is not only a slap in the face, but can and will also have a major impact on which college they can attend, or if they can attend at all.
But this is where entrenched Democrats have taken things: dismissing mistakes that school systems are apologizing for as "faux outrage" by telling parents that their child earning in the top 3% of all national students is meaningless.
There's likely to be even more students and schools impacted, and the investigation will continue. In the meantime, Virginians need to know if other Democrats agree with Surovell and Sickles' callous words. Do they stand with the Attorney General and Governor standing up for parents and students, or do they think that Merit Awards don't "mean that much" and parent's concerns are "ridiculous"? Their answer (or lack thereof) will go a long way in telling you how much they believe in holding the school system accountable to the public.