The RNC Resolution You Didn't Hear About: Denouncing GOP Efforts At LGBTQ Outreach
The RNC has been in the middle of a shitstorm since last weekend, when on Saturday morning they ridiculously passed a resolution labeling the storming of the Capital on January 6th to overturn the election as "legitimate political discourse." This prompted during the week the highest ranking elected Republican, Senate Minority Leader Mitch McConnell, to call out the RNC for its idiocy, and reaffirmed his belief that January 6th was a "violent insurrection."
The frenzy over the RNC resolution has helped shield from attention other resolutions that were passed on Saturday morning, including one that has been a long time coming: denouncing the GOP's own LGBTQ outreach efforts.
The resolution itself is mild-mannered, seeks to simply "clarify" that no voter outreach should "undermine" the party platform; specifically it is referred to its planks on "marriage and religious liberty."
(Confusingly, the resolution also specifies that the platform is the Republican Party's "public declaration of its core beliefs" that it makes "every four years," despite the fact that in 2020 the RNC famously couldn't be bothered and just copied-and-pasted 2016's platform. This led to the hilarious side effect of an official 2020 platform featuring several dozen criticisms of the "current President.")
However, the fervor behind this resolution is anything but mild-mannered. Of course, the central thrust of the pushback is that the official GOP platform, both in 2016 and in 2020 and continuing today, officially opposes legalizing same sex marriage. It also opposes the ban of controversial practices like "conversion therapy" for minors, where parents try to force their kids to not be gay anymore.
But beyond that is the full-throated outrage that the RNC, in its efforts to grow the party, dare treat other people with respect. Even as public polling shows that American voters overwhelmingly support same sex marriage and LGBTQ protections (including a majority of Republicans), anti-gay conservatives are still in charge of much of the party apparatus.
Two incidents specifically have caused them to melt down:
The Tweet
First was RNC Chairman Ronna McDaniel's tweet last June, wishing a happy #PrideMonth and noting the increase in LGBT support for the Party.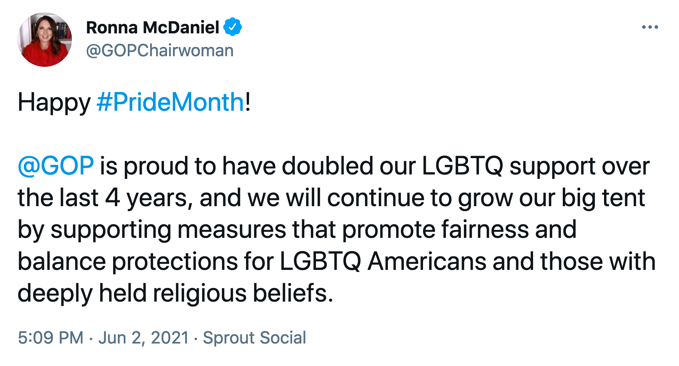 Normally, a party Chairman celebrating an increase in voters would be non-controversial, or even celebrated. Ah, but not if those voters are dudes who like dudes or gals who like gals.
Of course, it's not like the RNC is exactly ahead of the curve here. Other Republican groups have been championing gay rights and treating people with a basic level of respect for a while. Several years prior, the Virginia Young Republicans (YRs) officially voted to recognize LGBTQ Pride Month, as we covered here.
But as the top-most national apparatus, the RNC's tweet carried greater weight and ruffled feathers. Leading to the second incident:
The Gala
The Log Cabin Republicans (named after Abraham Lincoln's home, if you weren't aware) hold an annual "Spirit of Lincoln Gala" for their organization. Last November, former First Lady Melania Trump was honored, along with former Ambassador and election-denying enthusiast Ric Grenell. Also honored was RNC Chairwoman Ronna McDaniel, winning an award called the "Majority Maker Award," continuing in the theme of expanding the party.
This was too much for some prominent Republicans, including Oklahoma GOP Chairman John Bennett, who released an unhinged email/fundraiser calling for McDaniel's immediate resignation.
The Resolution
Bennett wouldn't get his wish for McDaniel's resignation, but he did spearhead and successfully pass an official RNC Resolution last week. This resolution formally denounces efforts made by the party to expand the party specifically to LGBT voters.
As such, this moves the RNC further in-line with the GOP's official anti-gay platform. It also makes clear that the primary goal of the Republican Party, according to its leaders, is not to grow the party, but instead to exclude disfavored outgroups like LGBTQ Americans.
What's Next?
The Log Cabin Republicans will keep on existing, certainly. The question is how much support, formally or informally, the RNC under McDaniel gives them in their efforts. Facing intense heat from the "legitimate political discourse" debacle, McDaniel may decide to retreat into a safer position than take risky moves like trying to grow the party.
But the future of the GOP and whether it will ever respect gay rights ultimately comes down to the leader of the party, which is typically the GOP nominee for President. The most recent one (and well could be the next one) is Donald Trump, whose record on gay rights is spotty at best.
Despite Ric Grenell touting Trump as "the most pro-gay President in history," largely on the back of Grenell (who is openly gay) being temporarily appointed to a Cabinet-level position that he was dramatically underqualified for, Trump's administration was staffed by longtime anti-gay activists in the mold of John Bennett. This includes Attorney General Jeff Sessions, who reversed the DoJ's stance on civil rights laws protecting LGBTQ workers from discrimination.
While Ivanka Trump took early credit for spiking an Executive Order her father was ready to sign that would've overturned a previous Obama Executive Order (EO) protecting LGBTQ rights, that issue became moot when Trump signed a Republican-passed law a few months later formally undercutting the same EO.
Of course, Trump took even more aggressive steps at discriminating against transgendered Americans (the "T" in LGBTQ). Carrying that torch, laws and attacks specifically targeted transgenders, including and especially transgendered kids, have become a top campaign and legislative priority for Republicans across the country.
And as the RNC made clear last weekend, the party believes that efforts to reach out to the LGBTQ community to bring them into the party actually undermine the GOP, and as such are officially and formally discouraged.